RoviSys Director of Industrial AI Bryan DeBois collaborates with insight.tech on two articles that address customer challenges and industry trends. Valuable insights on digital transformation, digital strategy, and data-driven manufacturing.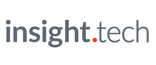 Read: A Data-Driven Manufacturing World with RoviSys
The reality of digital transformation in an industrial setting. What can digital transformation bring to the shop floor? What are the pitfalls to avoid? Where does AI fit into the concept? And how can you get your team to buy in?
---
Read: Demystifying Digital Transformation for Manufacturers
The term digital transformation has largely been overused and misunderstood, leading many manufacturers to believe they must make huge investments into these efforts. But the point of digital transformation, Industry 4.0, or smart-factory initiatives is to make small but impactful changes that improve operations, performance, and costs. "You're trying to increase the efficiency on the plant floor, look for insights, look for ROI, and unlock data," says Bryan DeBois, Director of Industrial AI at RoviSys, a leading automation and information solutions provider. "How can we use digitalization to make a transformative impact on operations?"