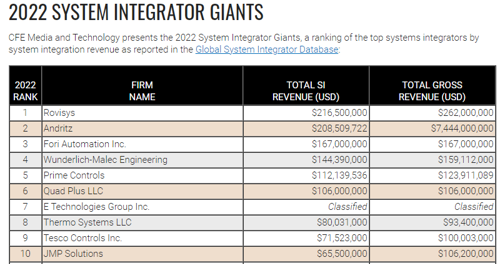 RoviSys, a leading provider of comprehensive process automation, building automation, discrete automation and digital transformation solutions has been recognized by CFE Media as a System Integrator Giant for 2022. RoviSys ranks first (1st) on the list of the top 100 System Integrators, maintaining its position in the top ten for a fifth consecutive year.
The System Integrator Giants program lists the top 100 system integrators among companies in the CFE Media and Technology Global System Integrator Database, ranked on total system integration revenue. The list of SI Giants is released annually in December with the CFE media Global System Integrator Report. The report celebrates recent achievements by highlighting integrators who will make a difference in the years to come.
With locations across North America, Asia-Pacific & Europe and over 1000 employees worldwide, RoviSys is committed to applying and developing technologies in support of digital transformation and Industry 4.0 strategies. For over 30 years, customers have relied on RoviSys for information management solutions, manufacturing automation, control systems integration, building automation, warehouse automation, enterprise and industrial networks, MES, and Industrial AI. A reputation of quality and continuity is built on technical expertise, dedicated customer service, and long-term partnerships with customers and technology platforms.
RoviSys enables organizations to define successful strategies and delivers proven solutions for capital investments, maintenance and support efforts, and digital transformation initiatives. Throughout the COVID-19 pandemic and into 2022, RoviSys has sustained growth and has been an integral part in the support and advancement of customers in mission-critical industries. Helping pharmaceutical customers put the right systems in place to support upcoming growth, and supporting expanded production capability to meet demand of critical vaccines will continue to be a focus in the upcoming year.
"More than ever before, the past two years has given our team the opportunity to see the direct impact we have in helping our customers deliver their life saving medicines and vaccines to people around the world," said Matt Knott, VP Life Sciences at RoviSys. "It is through our regional and global partnerships that RoviSys has continued on a strong growth trajectory in spite of challenges our generation had yet to see."
Learn more about the System Integrator of the Year award and how RoviSys is helping companies achieve their full potential.