RoviSys Ranks Second in CFE Media 2023 System Integrator Giants
RoviSys, a leading provider of comprehensive process automation, building automation, discrete manufacturing automation and digital transformation solutions has been recognized by CFE Media as a System Integrator Giant for 2023. RoviSys ranks second (2nd) on the list of the top System Integrators, maintaining its position in the top five since 2018.
For 2023, eighty (80) system integrators comprise the SI Giants, a ranking by system integration (SI) revenue for the most recently completed fiscal year, of control and automation system integration firms participating in the CFE Media and Technology Global System Integrator Database. The list is released annually in December and celebrates industry leaders and those integrators who will make an impact in coming years.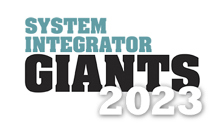 RoviSys defines successful strategies, integrates and delivers proven solutions for capital investments and maintenance and support efforts, and is committed to technologies that support digital transformation, Industry 4.0, and sustainability initiatives. Customers rely on RoviSys for information management solutions, manufacturing automation, control systems integration, building automation, warehouse automation, enterprise and industrial networks, MES, and Industrial AI. RoviSys has built and maintained a reputation of quality and continuity based on technical expertise, vendor independence, and long-term customer partnerships.
"Our global footprint and industry partnerships afforded RoviSys the opportunity to connect and support a variety of exciting projects with new and existing customers last year," explained Jason Maxwell, Consumer Goods Director, RoviSys. "Building on core business practices in process automation, information solutions, MES, and industrial network solutions, our teams drove significant business growth in the personal care space and forged exciting new relationships in eco-friendly and sustainable markets including cultivated meats and mycelium leather production."
RoviSys sustained growth during the pandemic, accelerated during 2022, and has a strong momentum heading into 2023. RoviSys Building Technologies experienced significant growth supporting and advancing customers in mission-critical and construction industries, and RoviSys Federal Solutions organized to provide dedicated automation and security solutions that enable smart infrastructure, address threats, and facilitate improvements for federal agencies.